Weddings
Kamínek guest house is a favorite place for organizing wedding ceremonies, feasts and various celebrations near to Nové Hrady. Romantic environment of secluded guest house in the nature of Novohradské mountains will be a beautiful place for your wedding day.
The variable internal as well as external space of guest house is available for your wedding. The garden with pergola, dance floor and external sitting area for up to 150 persons, hall for table for up to 70 persons and the restaurant for 60 persons. Capacity of accommodation for weddings in the guest house is max. 60 persons (We arrange the accommodation in surroundings for larger weddings).
The place of your wedding ceremony may be the State Castle of Nové Hrady, Žumberk redoubt, garden of Kamínek guest house or some of romantic places in the surrounding nature.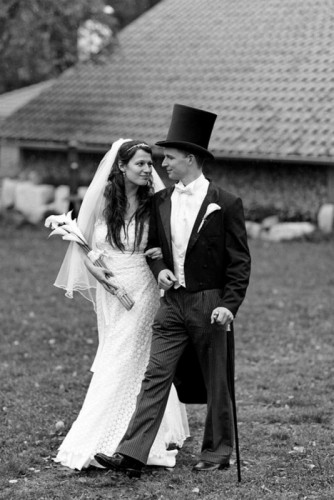 We provide upon your wish
Wedding pastry (cake and scones)
Floor decoration and wedding bunch
Wedding decoration
Name cards on wedding table
Wedding photograph, hairstylist
Wedding menu based on your wish
Life music, fireworks, roasted small pigs.
Have a look at our wedding offer and rooms in the guest house to have a better idea: Photogallery and  Wedding leaflet.
"Undisturbed entertainment"
"Complete privacy for closed society"
"Wedding in the beautiful nature of South Bohemia" 
We organize a wedding fest upon your wish. The examples of wedding menu below may inspire you. We are able to prepare also the classic Czech cuisine  (ham roll with horseradish, meat ball soup and sirloin with cream sauce) and many other variants. We prepared for you also a rich offer of meals suitable for wedding parties, to be downloaded at: Party cold meals, Party hot meals.
Wedding menu I.
Carpaccio of beef sirloin with aceto balsamico, crushed Mexico pepper, grated Parmesan with fresh herbs
Fine cream with a scent of garlic with lemon and with forest mushrooms
Fricassée de Poulet (chicken breast on olives served with castle potatoes, young onion and saffron sauce).
Panna Cotta on Baileys sauce, decorated with fresh figs and strawberries 
Wedding menu II.
Prosciutto di Parme e Pera (slices of fresh pear packed in Parma ham and grated Parmesan)
French onion soup with fresh rosemary and cheese croutons
Rosa roasted pork tenderloin in blue cheese veil with Lyon potatoes and potatoes rests
Vanilla Créme Brulle with strawberries and with caramel cobweb 
Wedding menu III.
Pickled goat cheese with mozzarella and Parma ham with fresh herbs
Concentrated beef bouillon with egg settling
Turnedoss made of beef sirloin on the green asparagus with the three-color-pepper sauce served with cream potatoes
Italian Tiramisu Mascarponi on the forest strawberries sea 
Wedding menu IV.
Pickled Norwegian salmon on rocket and corn salad with our honey-mustard sauce with fresh herbs
Cappuccino made of zucchini
Filled pork tenderloin with mushrooms mixture and Parma ham with saffron sauce served with Domino rice and potatoes rösti.
Strawberry Mousse with fresh fruit and liqueur cream 
Wedding menu V.
Puff paste with Fraiche creme and red caviar
Fine asparagus soup with scent of cognac and chicken breast
Tournedoss made of beef sirloin with roasted leaf spinach Fille Mille with young vegetables and English potatoes
Lemon Mousse decorated with forest fruit and fresh mint
Reservation
By submitting the form, you agree with processing of your personal data.